Added January 28th, 2012 by Matt

Warning: mysqli_query(): (HY000/1030): Got error 28 from storage engine in /home/sportsun/public_html/wp-includes/wp-db.php on line 1942

Michael Bisping just can't help himself — he has to antagonize fans and fighters. Maybe it helps him focus. Maybe he just didn't appreciate all the boos. Maybe he's just, as the British say, a 'wanker'.
Bisping bounced out on stage at the Chicago Theatre to weigh-in for his UFC on Fox fight with Chael Sonnen. As the crowd booed, Bisping had a double-barreled response for them.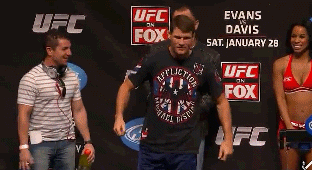 Both he and Sonnen have talked plenty of trash leading up to this bout, and thankfully it's time to actually do battle in the Octagon.
Tweet
Best US Sportsbook

Warning: mysqli_query(): (HY000/1030): Got error 28 from storage engine in /home/sportsun/public_html/wp-includes/wp-db.php on line 1942